2016 Lenten Parish Project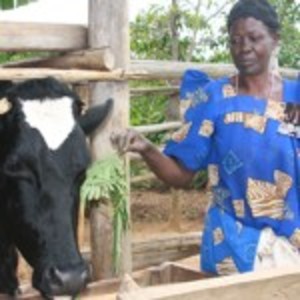 Rosemary is a widow. She maintains a household that includes her elderly mother, 8 grandchildren, and 3 orphans. All of her children have died, and so she is raising the young ones. Rosemary's farm includes a beautiful patch of pineapples, which she believes are the best tasting in Masaka. When Rosemary met Sister Toni, she said, "I am blessed and grateful that MPA has remembered me. But my prayer is that MPA not only remember me, because I know that there are many other widows in this area who are in need. Please remember them with your generosity, too." Read on for more information on The Cow Project's approach to microfinancing.
In the summer of 2008, MPA's Director and Founder Sr. Toni Temporiti had the privilege of meeting with Bishop John Baptist Kaggwa, who initially began the Cow Project in his Diocese of Masaka in 1993 because of his own experience of poverty as a child.  Through the diocese organization Caritas MADDO (which stands for Masaka Diocese Development Organization), families join the program in village groups and receive training to prepare for a cow. The participating families prepare their farms (typically one acre or smaller) to maximize the crop output by digging contour trenching to divert potentially devastating flash floods during the rainy season, by building raised vegetable beds, by employing astute plant management techniques to allow different crops to be planted closely together, and by utilizing composting to help their crops thrive.
The project requires that the families invest in their farms by building a zero-grazing shed for the cow, planting sufficient grass to feed a cow, and implementing sanitation requirements for the family and the cow, to keep the cow in top health.  Once all eligibility requirements are met, the family is granted a living loan of a pregnant cow, valued at $800.  Once the calf is born, a cow gives around 20 liters of milk a day.  The family uses about two liters for their own nutritional needs and sells the remainder to the Caritas MADDO Dairy, which provides the family a small but steady income. The loan is paid back by raising the calf for 9 to 12 months, and then passing along that calf to another family that is trained and ready.
As an additional living loan, the family may pass along a future calf in exchange for installing a biofuel system on their farm.  The biofuel made from the waste products of the cow and produces clean and Earth-friendly methane which is used for cooking and lighting.  The remains from the bio-fuel are then used for fertilizer for the banana trees, which are the main food in Uganda.  Biofuel saves time and money, especially for the women who tend to be the ones preparing meals.  Firewood, which is scarce, can take 1 to 2 hours daily to gather, and adds another 45 to 60 minutes of time to cooking any meal.
Although the Cow Project is self-sustaining, there are still 2,000 families trained and waiting for a cow to begin their journey out of poverty!  Purchase a cow and be an integral part of this transformative process helping the rural poor in Uganda.